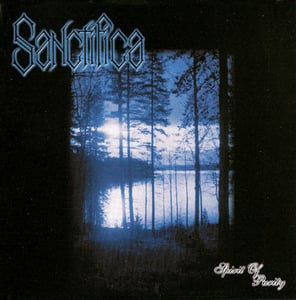 $

4.99 - On Sale
In 1996 Hubertus Liljegren (guitars) and Daniel Thelin (drums) formed Sanctifica, and the band were joined by Alexander Orest (bass). Initially, the band played death metal, until Alexander left the bass guitar for Jonathan Jansson and began playing keyboards, taking the sound more towards black metal.
During late 1997, Sanctifica recorded a demo tape titled In the Bleak Midwinter, which presented Scandinavian black metal and was released in early 1998. Afterwards Henrik Georgsson joined the band as a second guitar player.
By 1999 Alexander was replaced by Aron Engberg. The band's sound changed from atmospheric black metal to chaotic black metal. Sanctifica went to Studio Berghen to records its first full-length, produced by engineer Mick Nordström.
The debut album, Spirit of Purity, was released in March 2000 through Little Rose Productions and Rivel Records (then known as C.L. Music & Publishing). Following the release, Sanctifica played concerts in Sweden, Norway and Finland.
By 2001 the band left black metal and evolved to a more experimental, progressive death metal act. Later that year, Sanctifica entered a studio to record Negative B, a concept album produced by the guitar virtuoso Carl Johan Grimmark. The band recorded the album in 4 months and released it in March 2002.
During the concerts following the albums release, Björn Isacsson played all guitar parts for a while, letting Hubertus perform vocals. In May, David Sieving of Crimson Moonlight joined as a vocalist, and Hubertus concentrated on playing guitar. Sanctifica played a number of concerts at different festivals in Scandinavia during the summer 2002. Some concerts included a performance by the dancer Lovisa Lindström.
In the beginning of October, Sanctifica played a tour in Finland, performing at rock clubs of Turku, Helsinki and Jyväskylä. Afterwards. Hubertus left the band.
Sanctifica disbanded in 2003. Hubertus Liljegren went to join Crimson Moonlight, while the rest formed a group called As a Reminder.
Track listing
"Riket (The Empire)" - 4:35
"The Dark Desires" - 3:51
"Released From Pain" - 4:24
"Spirit of Purity" - 6:38
"Allhärskaren" - 5:19
"Landscape" - 3:14
"The Dark Embrace of Night" - 4:57
"The Wanderer" - 4:30