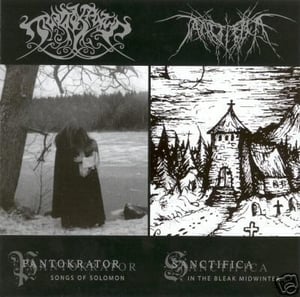 $

4.99 - On Sale
Sanctifica "In The Bleak Midwinter"
It's their entire demo, re-released with a better sound quality. From the dark and quasi-ambient intro to the powerful "King Of King And Lord Of Lords", we have a succession of melodic but raw black metal. No unstopping blast beats, no repetitive riffs, just evolutive songs that never end like they begin. The guitar sounds very clean (or not too dirty) for a black metal band, but the keyboards and the distortion are perfectly assembled to make a collage of brilliant melodies and melancholic atmosphere. The harsh voice fits always to the music, complemented with clean voices chorus that add a special feeling to the atmosphere. A brilliant masterwork.
Pantokrator "Songs Of Solomon"
An EP from this progressive death metal band. It's a collection of beautiful, experimental death metal, with some gothic and doom influences, acoustic passages, female voices that fits perfectly with the singer's voice. I must admit that he has the BEST death metal voice I've ever heard (according to my voice taste) changing from growling, deep voice to suddenly harsh and shrieking vocals, always complementing the riffs and the evolution of their songs. They have an acoustic song (where the bassist Jonas plays the violin) bringing a pause that helps so much to enjoy the whole EP. I will look for more Pantokrator stuff yeahhhh.